Step By Step Guide To A Smile Makeover With Dentures
Dental Tech are renowned for making high-quality dentures that fit you really well and function properly. The goal of a smile makeover with dentures is to make it look really natural and also give your face, lips and mouth support.
We get lots of queries about dentures, some people ask will dentures change the shape of my face or will dentures fall out. Many others want to know why dentures are important or how long does it take to get dentures.  We wanted to answer some of these questions and what better way than to look at our existing client cases. So, what are the steps when getting dentures, this is how we did Peter's smile makeover, step by step.
From outside appearances, Peter's old dentures didn't seem too bad. However, this case was all about improving his quality of life and his dentures didn't look too bad. But they were not fitting well and because of that they were very uncomfortable. They would move when he was eating and food would get caught underneath. So, we set out to make new dentures that had very much improved fitting, and were more comfortable. Improving Peter's quality of life!
Step 1 – First Appointment
At the first appointment we reviewed the current dentures and assessed the existing problems. We checked Peter's oral health and listened to his experience with the existing dentures. We work together with our patients because they are the ones wearing the dentures at the end of the day. We gathered as much information as we could in terms of health and physical condition to make an assessment of what Peter needed. Then we took an impression/mould of his mouth which would be used to create the base of his new dentures
Peter's dentures were too big for his ridge and the muscles in his mouth cheeks were lifting the lower denture up whenever he moved his mouth. His upper denture was so thick around the edges that his cheeks were also pulling the upper plate down, making it very difficult to eat. So not a great set of dentures, that weren't doing the job they were supposed to do.
Another problem was the fact that his old set's back teeth didn't meet, resulting in dentures rocking sideways. This meant Peter having to follow the dentures when trying to chew his food, rather than the dentures following Peter's bite.
Step 2 – Second Appointment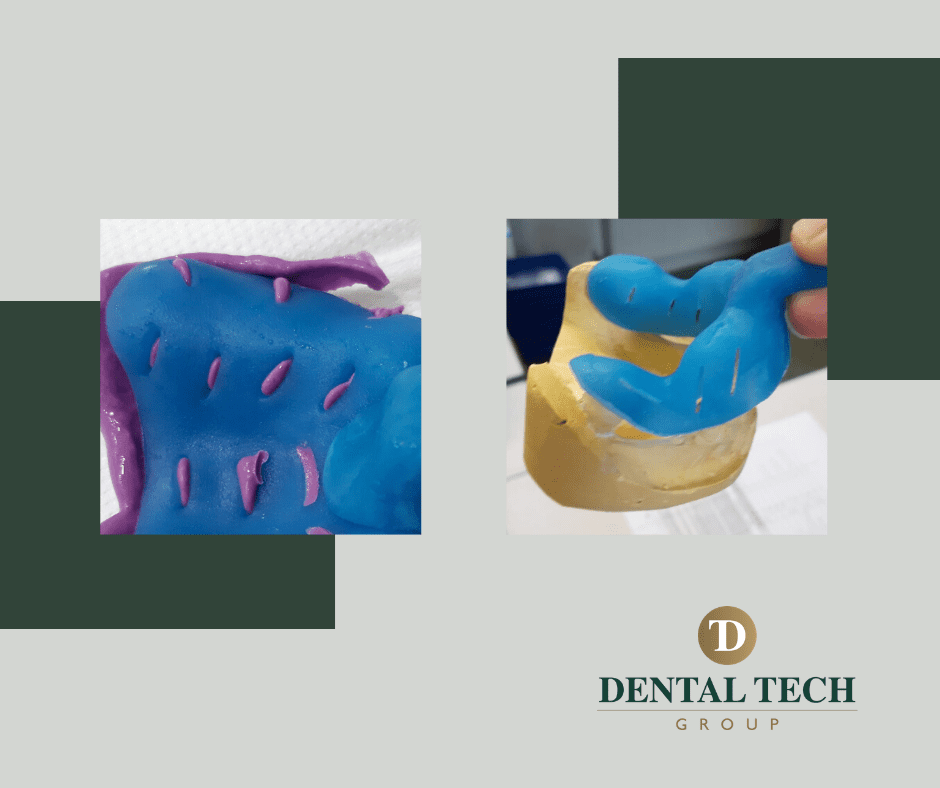 On the second appointment, wax models were used to register his bite and orientation for the denture teeth. Peter selected the size, shape and shade of the teeth for his new denture so that he was comfortable with how they would look.
We took bite registration with bite blocks and also took the second set of impressions with our customised tray. Our laboratory makes a customized tray from the original mould and allows us to take an even more accurate impressions. This tray is hand made by our team of experts, to ensure a much higher level of detail that cannot be achieved through the standard trays. We also used a more defined impression material which again gives us a perfect duplicate of the patient's anatomy and ensures a superb fit.
❗For the next part the real key to success is to communicate as much of Peters details and desires as possible. This helps the team of experts in our LAB to deliver the best result.
Step 3: Try-In 
At this appointment Peter was able to see the mock-up/trial of his new denture.  The teeth he selected at the start were set up in wax and ready to try in during the trial. This gave Peter a great opportunity to see what his denture would look like before it was finished.
At this stage we fixed another problem from his old dentures, which was that the back teeth didn't meet when Peter closed his mouth. Now we had the correct position of the teeth for Peters bite and we ensured that they were placed where his natural dentition would have been. So, replacing what naturally should have been there when Peter had his natural teeth.
"I remember Peter saying that they already felt better than his old set", our clinical dental Technician shares.
All the checks regarding fitting, biting, phonetics and of course appearance had been done by the end of this appointment.
Step 4: Final Fitting
At the fourth appointment we fitted Peter's new dentures. You can even see from the pictures the complete difference from his old set. At this stage we went through all the checks again to ensure everything was perfect for him. We shared all of our tips about how Peter should care for his new dentures and agreed to meet him for his review.
When Peter came back for his review he said that the fitting was fantastic and that he has had 4 sets in his whole life. This is his fifth set and it is the first time that a set of dentures fitted so well from the very beginning. He was able to eat with them from day one!
 Review
We managed to improve the fitting thanks to the secondary moulds with the custom trays that we have. This helps us get the best fit that we can get for every individual case.
We also managed to get a superb articulation at the back which will improve his biting and chewing. This will help his digestion while making his eating and daily life in general a more pleasant experience.
In terms of look we went for a similar shade so there wouldn't be a too obvious change.
We also gave a high polished all around the new set. This coating acts as a shield and protects the acrylic from absorbing germs. This means the dentures will be kept cleaner and more hygienic for longer.
In addition, we relocated the post dam and changed the design of it which will help to build up the suction in a more effective way.
We are excited about the great result had been achieved and so Peter will be able enjoy his life more!
We will be seen Peter again on our standard check up to ensure that the settling process takes place perfectly and that Peter is enjoying his brand-new smile.
Dental Tech Denture Clinics
DUBLIN – Whitehall House, Terenure, Dublin 6W – Call 01 4551866
WEXFORD – The Whitemill Medical Centre, Wexford – Call 053 9192999
WATERFORD – Waterford Health Park, Waterford – Call 051 365999
KILDARE – Vista Primary Care, Naas, Kildare – Call 01 4551866